2009
09.29
Apple hari ini mengumumkan bahwa App Store telah melampaui dua miliar download. Apple juga mencatat bahwa sekarang ada lebih dari 50 juta pelanggan iPhone dan iPod touch, 85.000 aplikasi di App Store, dan 125.000 App developer.
"The rate of App Store downloads continues to accelerate with users downloading a staggering two billion apps in just over a year, including more than half a billion apps this quarter alone," kata Steve Jobs, CEO Apple. "The App Store has reinvented what you can do with a mobile handheld device, and our users are clearly loving it."
Jobs mengumumkan di "It's Only Rock and Roll" media awal bulan ini bahwa App Store sudah melampaui lebih dari 1,8 milyar download, dan menjelaskan bahwa jumlah itu tidak termasuk update.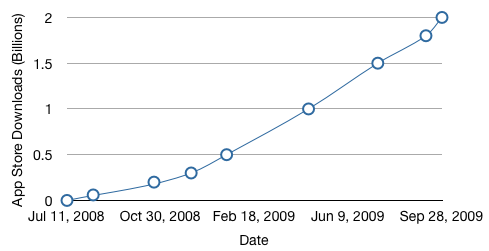 Pertumbuhan App Store
Di event tersebut, Apple juga menyampaikan bahwa pengguna Apple App Store sudah tersedia di 77 negara, dengan lebih dari 20 kategori aplikasi, dan juga mendemonstrasikan kemampuan baru iTunes 9.